Patent-pending design uses preloaded spring tension to lock the chuck in the closed position.
Have you ever had an operator forget to close a chuck? Are you trying to eliminate pinch points? Double E's Auto-Lock™ Safety Chuck automatically closes when rotation begins.
Featuring Fail-Safe Closing™.
If you are focused on operational safety, Double E's Auto-Lock™ Safety Chuck with exclusive Fail-Safe Closing™ is the answer. You can upgrade any brand of safety chuck.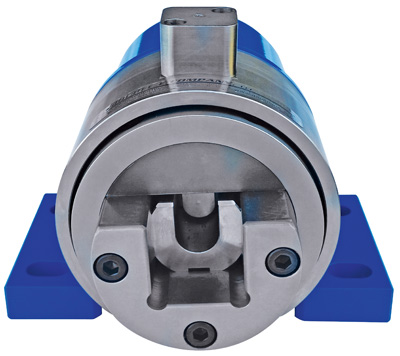 Double E's Newest Innovation in Web Handling Safety!
Double E's sliding design eliminates pinch points.


Redundant safety features ensure 100% roll security at closing.


Flange mount and foot mount designs.
​
Double E's Auto-Lock™ Safety Chuck Delivers Unparalleled Performance and Easy Installation
Ideal Upgrade for Any Traditional Safety Chuck
Auto-Lock™ Safety Chuck Features:
All models include Fail-Safe Closing™ functionality.

Exact drop-in replacement for any safety chuck, including obsolete SuperChuck models.

Double E's maintenance-free sliding action is safer, more reliable, and more durable than tilting faceplates.

Easy conversion – upgrade requires no bulky adapter plates.

Available in both foot and flange mount models.

No need to modify shaft length or shaft center line height.

Double E's exclusive replaceable inserts with U (square) or V (square-turned-45°) jaws.
You Might Also Be Interested In...
Receive a Free Quote