Pneumatic Roll Stand Brakes
Pneumatic friction brakes used to control tension on an unwinding roll.
Double E supplies a complete line of pneumatic brakes.
Ideal for corrugators, paper sheeters, and many other converting machines.
Double E pneumatic brakes run cool and quiet on unwind stands so brake pads last far longer than competitor's brake pads.
All models maximize air flow to insure cool brake running and extend pad life.
Modular caliper design allows appropriate brake force.
Long brake pad life.
Easy brake pad replacement.
Field-proven brakes for low tension to high tension applications.
No squealing.
EE250 Brakes
Important characteristics of Double E brakes
Modular caliper design and unique turbine rotor reduce brake size & cost.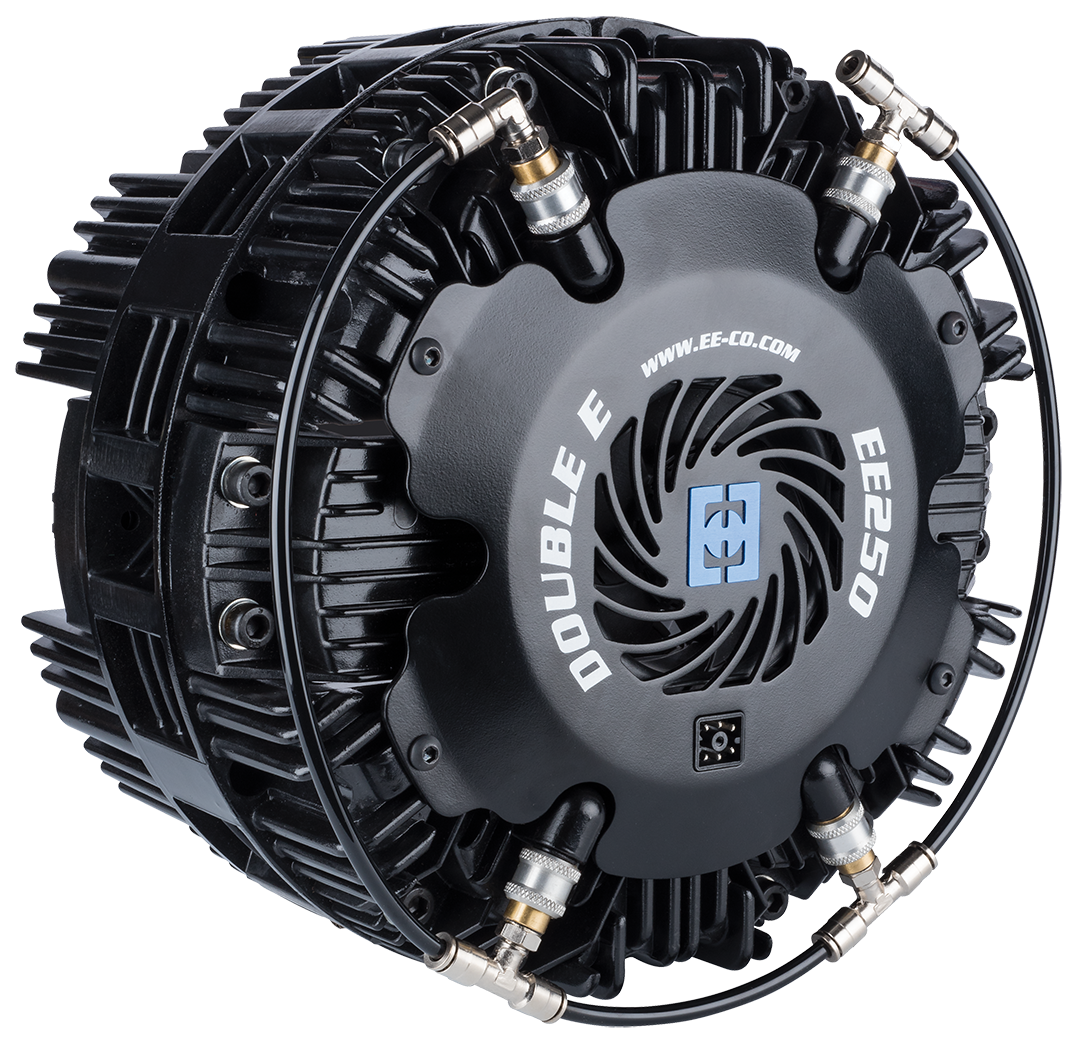 Excellent heat dissipation and high quality Kevlar composite pads lengthen pad life.

Brakes run cool, minimizing squealing and brake dust.

Self-enclosed – safe without a cage.
Universal High-Performance Fan Kit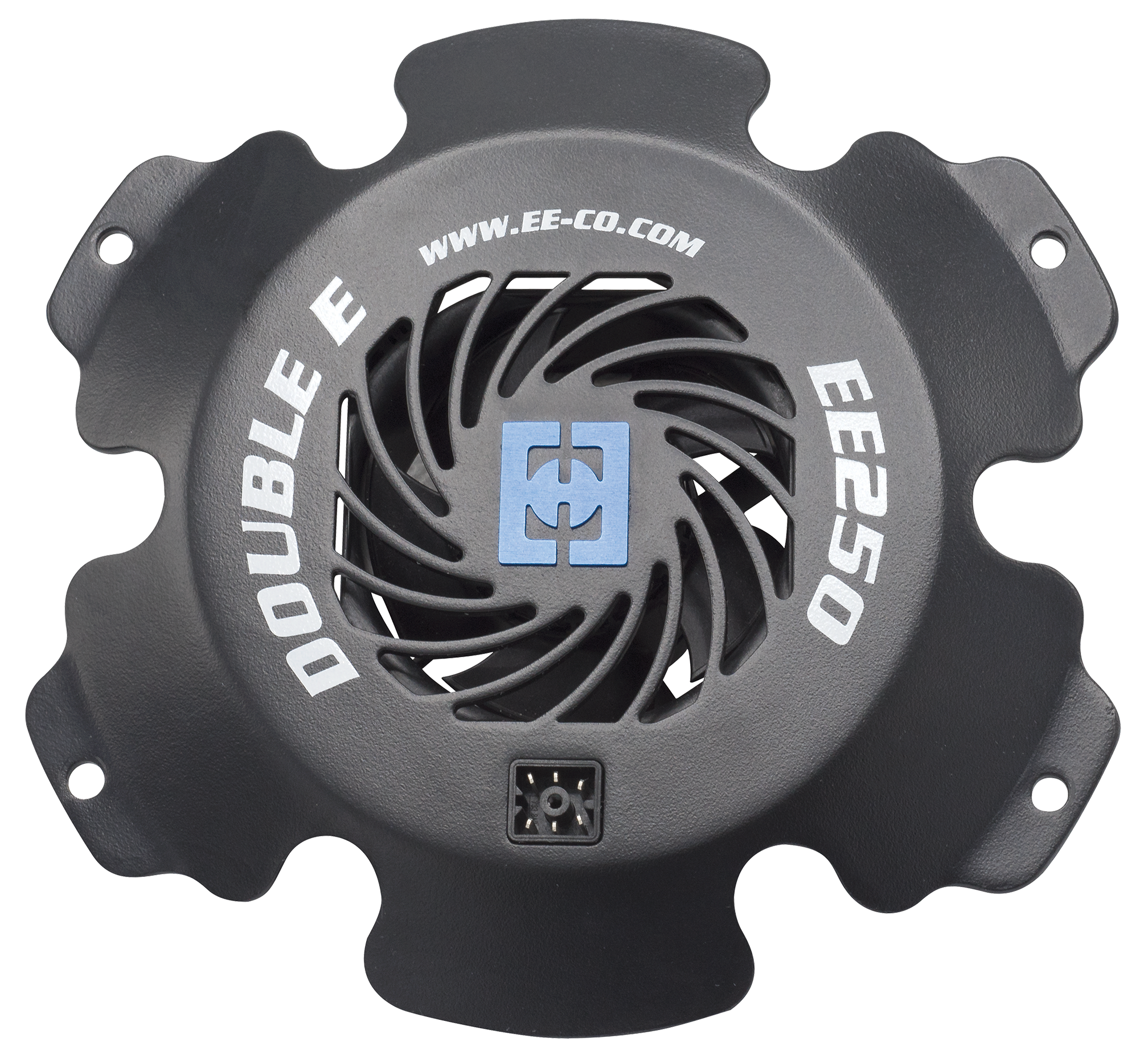 Universal High-Performance Fan Kit is an upgrade for standard brakes. It is available for existing brakes already in service, as well as on new brakes.
Provides even greater cooling capacity.

More accurate slipping torque.

Easy bolt-on installation.
Brake Components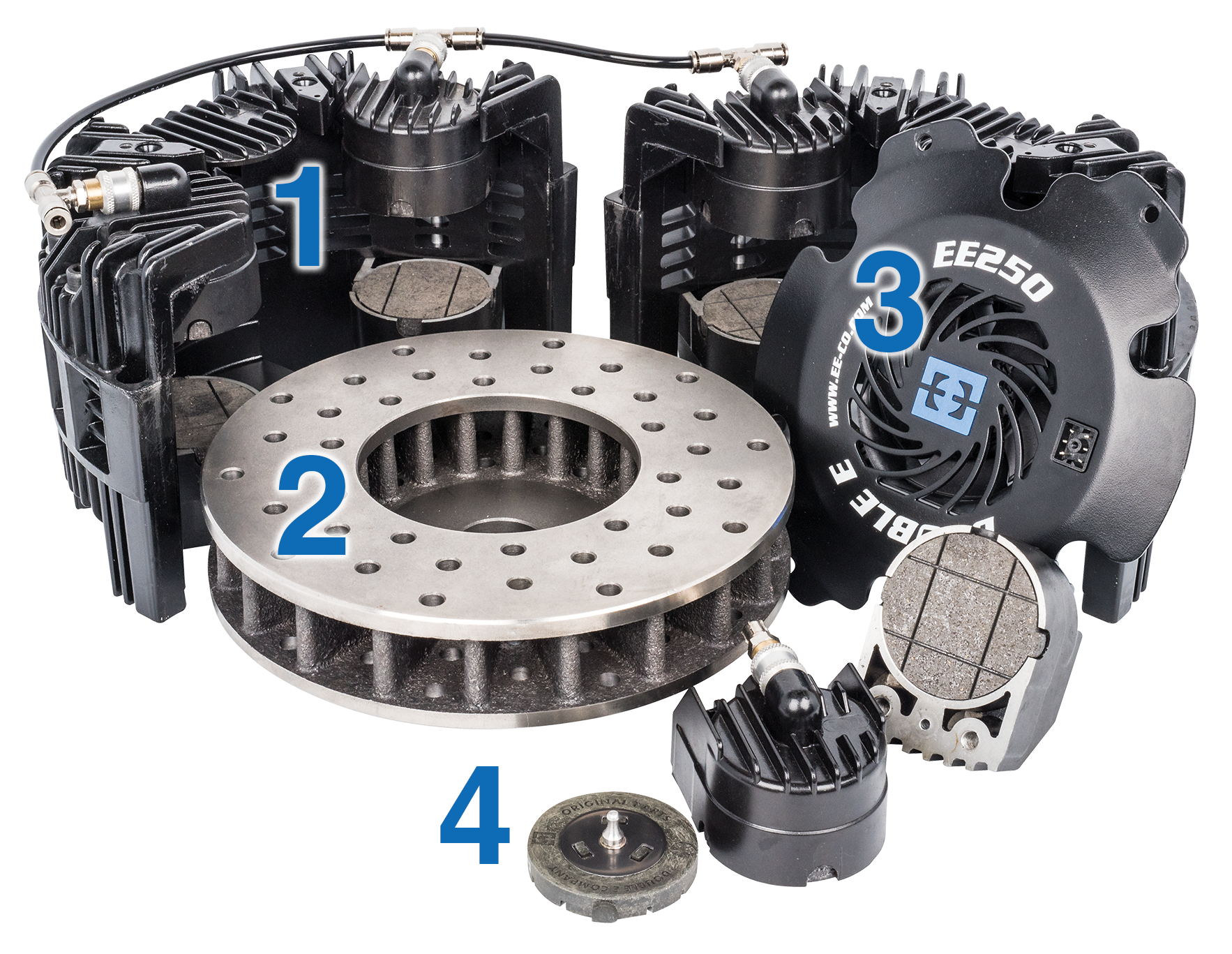 Modular brake design allows calipers to be added or removed to suit each application for customized tension control.
Special brake rotor increases air flow through the brake, reduces heat, and extends brake pad life.
Internal high-performance fan provides further cooling; keeps brake cool even at slow speeds.
Double E brake pads last longer while reducing noise and dust.
Double E Brakes - Synopsis
The primary function of brakes is to convert mechanical energy into heat, which is then dissipated into the atmosphere. Traditional air-cooled disc brakes are actually very poor heat exchangers, depending largely on a high rotational speed, a large disc diameter, and a large radiant surface to dissipate heat. Often, these brakes overheat, reducing the brake's efficiency while increasing noise and dust. To solve this problem, most brake manufacturers simply increase the disc size, creating an unnecessarily large brake.
Double E brake rotors are designed with a bi-directional design that increases airflow through the brake, even at slow speeds. This airflow allows the brake to dissipate heat more efficiently than other disc brakes.
Attention to ventilation is carried through to the brake housing as well. Double E brake housings use a ventilating hole pattern that permits free circulation of air from the middle of the unit to the edges. A built-in fan increases the heat dissipation even further, and ensures a cool-running brake regardless of the running speed. Because these brakes run cool, they eliminate brake fade, excessive noise (squealing) and brake dust, and premature pad wear.
Double E pneumatic brake pads last far longer than other brake pads because of the brake's efficiency and the proprietary pad material. These advantages have make the Double E brake an optimum choice for braking converting applications.
The Double E brake's modular caliper design allows flexibility with the number of calipers used (for improved tension control and/or to allow emergency stopping ability). Unneeded braking power is eliminated, and all customers get brakes that are optimized for their application.
It's easy to upgrade any roll stand to Double E brakes. Most often our brakes are smaller than existing pneumatic brakes, and the basic model is appropriate and simple to install. Standard rollstand-specific models also exist for Langston, Martin, and other common unwind stands.
Related Files
EE250 Series Pneumatic Brakes

Downloadable PDF brochure of Double E Pneumatic Brake Line outlining the features, benefits and technical information related to the units.
You Might Also Be Interested In...
DF-2000 Torque Activated Core Chucks

The world's most popular torque-activated core chuck uses rolling friction inside the chuck to lift and center the roll. Easy retrofits, no-slip grip, no end-of-roll waste.

Brake Pads for Unwind Stand Brakes

Double E brake pads use a proprietary brake pad formulation that provides high performance, superior pad life, low dust and low noise.

Shaftless Unwind Stands - Powell Engineering

Powell Engineering shaftless unwind stands minimize downtime between rolls. The proven Model EP and EP Junior stands make roll loading and unwinding easy and dependable.
Receive a Free Quote